HOW IT WENT DOWN
Jorgensen has returned and this time I've managed to take this 20 year old stud just a step closer to crossing the line in gay4pay! As you know this sexy stud is heading to boot camp soon because he just received his orders. Before he heads off I wanted him to stop by so I can send him off properly the way a Marine should be... with a ball busting blowjob! Today I've convinced this stud to let me suck his 8.5 cock and give him the send off he deserves!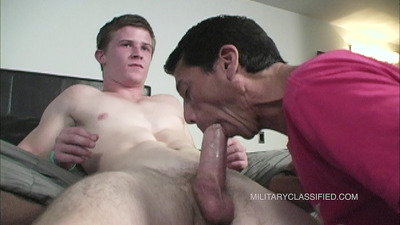 When Jorgensen arrived today he was excited because he's a complete virgin to porn! Any kind of porn! He was excited about the process and the chance for him to show his stuff and shine. He stands about 6'0 weighing in at 175 and this boy has a RIPPED body, an ass that just doesn't quit, and arms that are the size of my legs. Once I got him naked I had him pick up some dumb bells and show me just how hard he can make his muscles.
Not only does this boy have an amazing body but to top it off, he's got the dick of death! 8.5 inches of pure white boy meat! I began sucking this boy the usual way, working my way up his nut sack and driving his crazy doing it. A silence came over the room and all you could hear was the pussy porn on the TV in the background as Jorgensen was now deep into the blowjob which was something he wasn't expecting.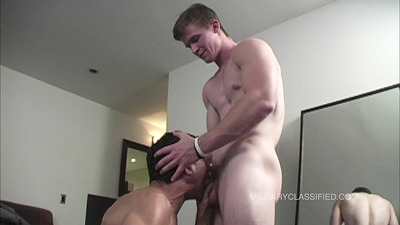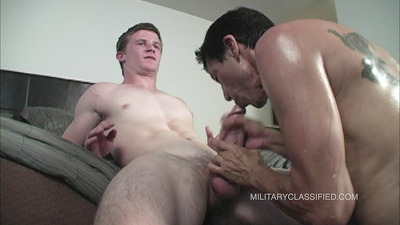 Once I made my way to his fat juicy cock, Jorgensen was engorged and ready for action. I began to bounce my mouth up and down on his rock hard cock and this made Jorgensen even more turned on but confused at the same time at how great this was actually feeling. Next I stood this boy up and knelt down in front of him and continued my worship of Jorgensen's cock.
He took me by the back of my head with both hands and continued to pump my mouth fucking my face hard and fast now and almost making himself nut. I sat him back down on the bed and didn't stop until Jorgensen gave me the warning that he was about to cum. He tensed up, stretched his feet and pointed his toes letting out a scream as he blew his load all over my hand and down his leg. This boy is LOUD!!!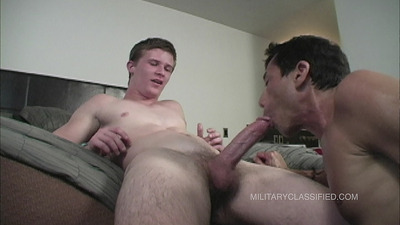 ---
PHOTO SHOOT


























---
MOVIE STILLS


























---
RELATED MOVIES